ONE APP FOR SUNRISE AND UPC

UPC and Sunrise in one app: The My Sunrise UPC app unites the features of the My UPC and My Sunrise customer areas. In your personalized section, you can easily access your customer data and bills from your smartphone at any time, regardless of whether you have a UPC or a Sunrise subscription.
Get the app up and running in just two steps:

As a UPC subscriber, use the e-mail address and the password of your My UPC account.

As a Sunrise subscriber, use your mobile phone number or customer number, or the e-mail address registered with Sunrise.

The app automatically transfers you to your customer area. If you use both UPC and Sunrise products, you can also conveniently switch between the two customer portals within the app.

WHAT CAN I DO WITH THE APP?

With the My Sunrise UPC app, you can stay up to date and change your data and applications to match your needs at any time. The app comes with all important information and options for your products, such as:

Service status: Disruptions and maintenance work in your region

Cost control: view current costs, set or adjust cost limits

Managing your account is just that easy: Simply download the app and discover all the advantages.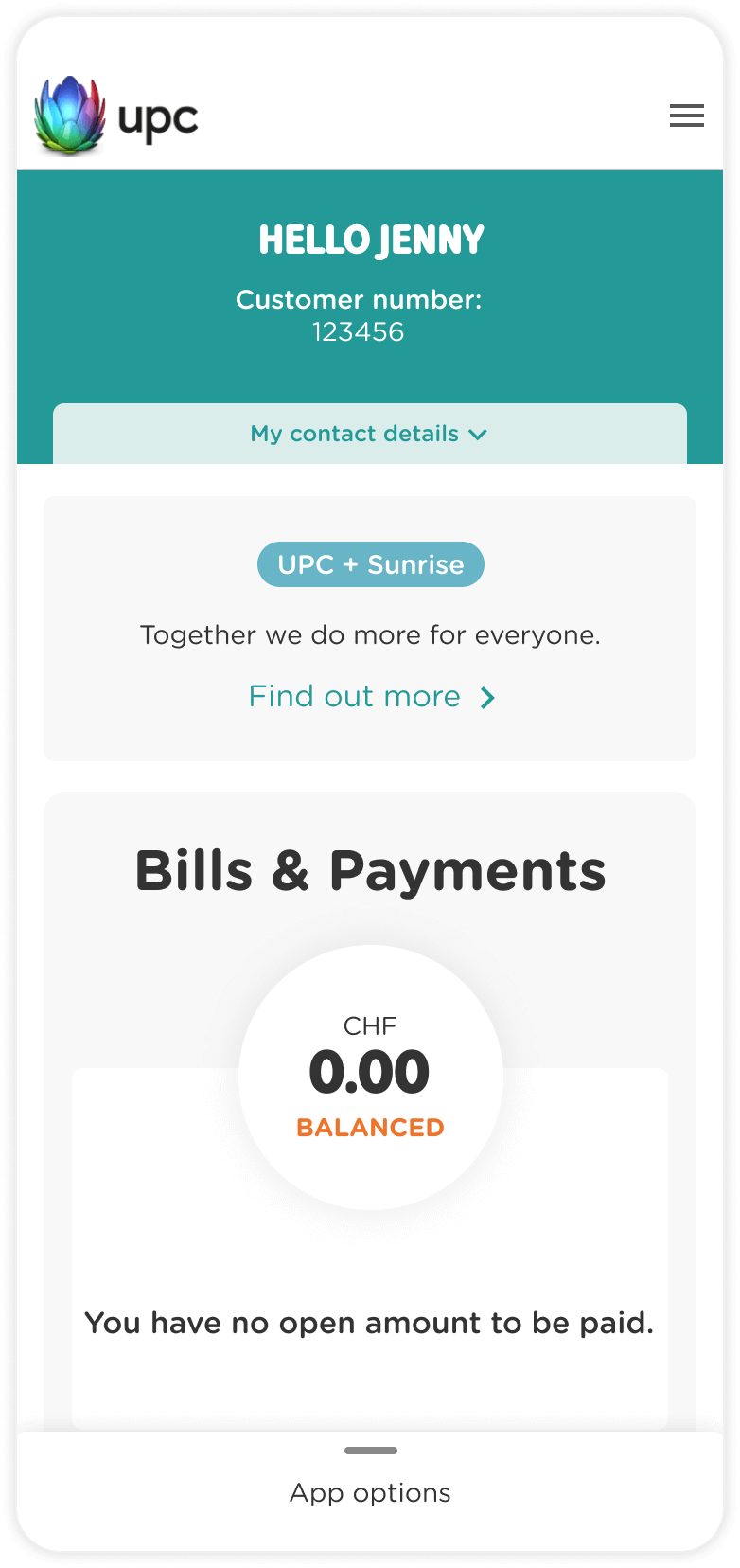 FREQUENTLY ASKED QUESTIONS

If you are using the My UPC app, uninstall it and download the new My Sunrise UPC app. App Store or Google Play.
If you are using the My Sunrise app, all you need to do is update it.

If you are using products from both UPC and Sunrise, you can also switch between customer portals within the app. The app combines the UPC and Sunrise customer portals.

Please check that you are using the correct login credentials. If you have a UPC subscription, you will need the login details (e-mail address and password) for your My UPC account.

If you have a Sunrise subscription, please enter your mobile phone number, customer number or e-mail address registered with Sunrise. The app will then identify you and automatically transfer you to your personalized UPC or Sunrise customer area.

If you have forgotten your password, click on "Forgot password" and reset your password.

After launching the app and logging in, the "Guide" option will appear at the edge of the screen. Click on it to select which of your products you need help with and get the relevant information.

Do you need further assistance?

Take advantage of the knowledge of experienced customers in the UPC Community or contact us directly through the contact page.