Your 3-in-1 cable connection bill at a glance

On the one hand, the cable connection is the prerequisite for the use of all digital products. On the other hand, the 3-in-1 cable connection also gives you access to the basic digital offer: TV, fixed line and Internet (3 services). You can watch TV without an additional box, surf the Internet with a modem at 10 Mbps and connect to your fixed-line network at no extra cost.
Often the 3-in-1 cable connection is billed via your rental charges. If this is not the case, you will receive an additional invoice. In the Happy Home (formerly Connect & Play) and Connect subscriptions this fee is already included.

Is the cable connection billed via the additional rental costs?

Usually the fees for the 3-in-1 cable connection are charged together with the incidental rental costs. That means you pay the fees monthly with the rent.

Do you have a Happy Home or Connect subscription?

The fees for the cable connection are included in the subscription costs. There are no additional costs and you can have the fees removed from the incidental rental costs via your administration.

Are the fees for the 3-in-1 cable connection charged directly to you?

You have the option to pay the fees quarterly, half-yearly or annually. Change the payment interval quickly and easily by calling us: 0800 66 88 66. You can change your payment interval without notice, as long as this does not conflict with the terms of your contract.
How is my invoice structured?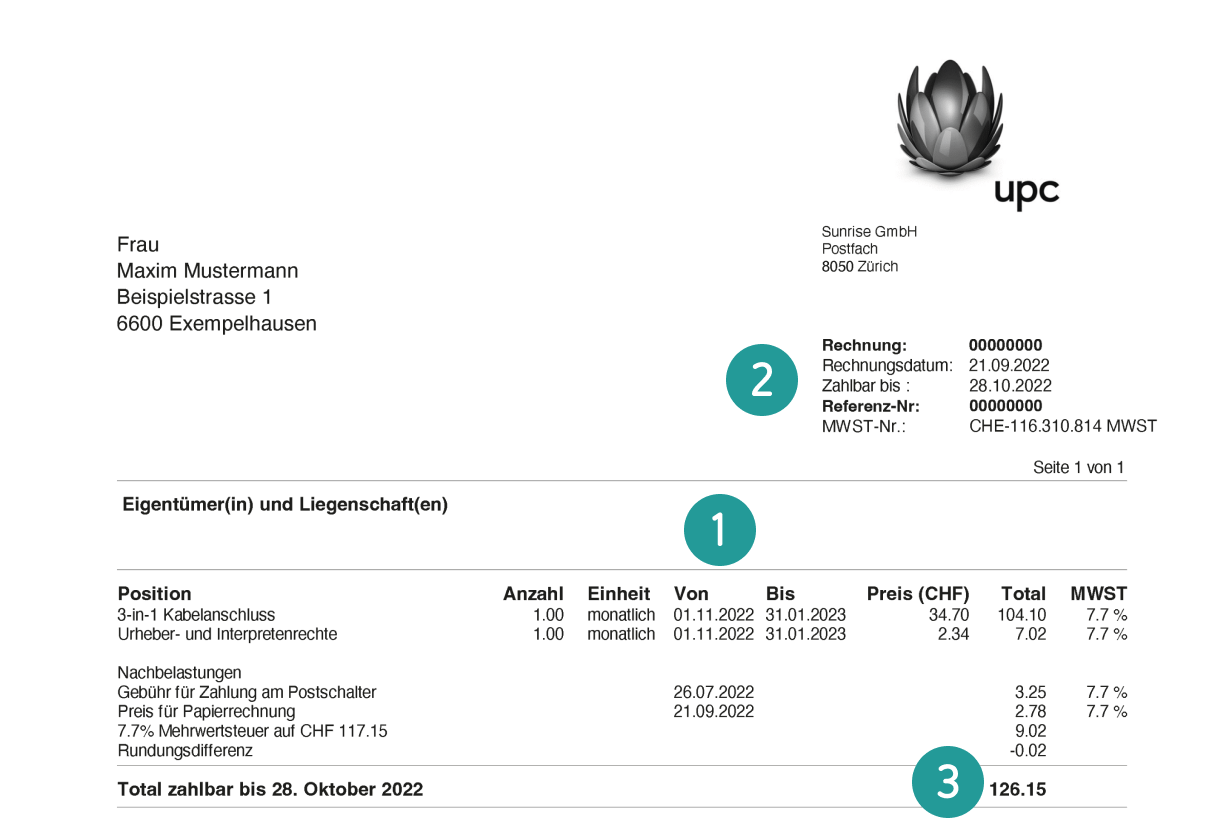 The billing period is displayed here. This varies depending on whether you pay the bill quarterly, half-yearly or annually.

Important details such as invoice number, payment date and reference number (contract number) are listed here.

Here you will find the total amount to be paid (incl. VAT) and the due date of the invoice.

You can change your billing address with this form. Send us the completed form:
Sunrise UPC LLC
P.O. Box
8050 Zürich

You can receive or pay your bill for the 3-in-1 cable connection as an invoice by e-mail, by post, as eBill or with LSV/DD.
Please call our support helpline to change the payment method: 0800 66 88 66