CHANGE, ACTIVATE & FIX PROBLEMS

How do you activate your new SIM card, where do you find the PUK code and what do you do if you lose your SIM card? Here you will find the answers to the most frequently asked questions about your SIM card.

SWITCH SIM CARD
Before the SIM card is delivered, a quick identity check must be carried out. You can carry out the identity confirmation:

Personally by giving your signature at the post office or at the shop

In both cases you need your identity card (Swiss ID, passport, B or C residence permit).

What size SIM card do I need?
All UPC Mobile customers receive our 3-in-1 SIM card. The size of your SIM card must be adapted to your mobile phone. Please check the technical data of your mobile device to see which SIM card is suitable for your mobile device.
Three different SIM card formats are available: micro, mini and nano. The three SIM cards differ in size and are all included in our 3-in-1 SIM card.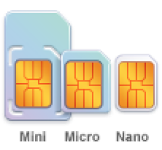 Currently eSIM is not available at UPC.

ACTIVATE SIM CARD
How do I insert my SIM Card on my phone?
For the most common devices, you can find step-by-step instructions for how to insert the SIM card in our Mobile Assistant (the online guide to setting up your smartphone).
How do I activate my SIM card?
Are you a new customer and have a new mobile number?

Insert your new SIM card and enter the assigned PIN code. In the welcome letter you will find an activation code. The first time you call any number, you will be asked for this code first.

Are you already a customer and have received a replacement SIM card?

Call our support hotline on: 0800 66 88 66.

The activation date is also the date from which we will start the invoice for your use of your mobile subscription.
What do I need to know before activating the SIM card?
Before you insert your new SIM card, we recommend you make a backup and save all your contacts and personal data.
You can find help in the Mobile Assistant, our online guide to setting up your smartphone. You can find instructions on how to create a backup under the help topics.
SIM CARD TROUBLESHOOTING
Where can I find the PIN code?
Together with your SIM card, you receive a standard PIN code. This PIN code is printed on the plastic card which the SIM card is supplied with.
Please note that the PIN code is saved on the SIM card itself, which is why we cannot inform you of your PIN code once you have changed the standard PIN code. If an incorrect PIN code is entered too often, you must enter the PUK code of your SIM card.

Where can I find the PUK code?
The PUK code is the security code for your SIM card. You need the PUK code if you have entered your PIN code incorrectly too often. You can find the PUK code for your SIM card:

on the plastic card which the SIM card is in when it is delivered

If you enter the PUK code incorrectly too often, the SIM card will be permanently blocked and can no longer be used. In this case, you must request a new SIM card via My UPC.
How do I block my SIM card?
If your SIM card has been stolen or lost, you should have it blocked immediately.

In My UPC you can lock your SIM card yourself at any time.
You can also contact us on 0800 66 88 66 to have your SIM card blocked.

Until the moment you report your SIM card as stolen or lost, you are liable for all the costs arising from the theft or loss. It is therefore extremely important to report a stolen or lost SIM card as soon as possible.

SIM lock describes the restriction on SIM card use to certain providers or networks.
Note: If you own a mobile device from UPC, this does not affect you because we do not implement a SIM lock on any of our mobile phones.
If you own a mobile phone from another mobile operator, ask the mobile operator you purchased it from to remove the SIM lock